Do Chelsea need a new striker?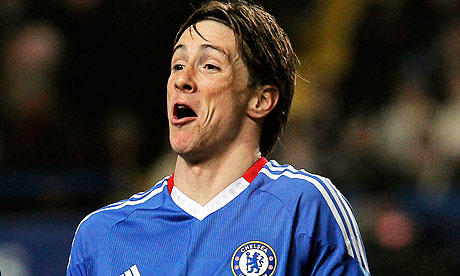 I'm sure most football fans are slightly envious of Chelsea FC at the moment, they're European Champions and they've been splashing the cash on some of the world's finest young prospects. They should be heading into the 2012/2013 season with no problems, hoping of challenging for the Premier League Title and retaining 'Ol' Big Ears', but I and a few Chelsea fans by the looks of it can see one slight problem. The striking options.
Do Chelsea need a new striker?
Yes. That would be my answer in short. In the last year Chelsea have lost Nicolas Anelka and Didier Drogba. During Chelsea's last title winning campaign the pair scored just under 50 goals between them. Now I have no doubt that Marin, Hazard and Oscar will contribute goals, as well as the ever reliable Frank Lampard, but to win the league and compete on all fronts you need a striker (or 2) who will get you 20+ goals.
Fernando Torres:
Though I'm not a Chelsea fan, I found myself infuriated with the ignorant comments that he's lost it. Fernando Torres is a great striker and a few years ago was arguably one of the best in the world. However I will stop the love affair with him right there. It is a huge ask for Torres; a man who's scored 7 league goals in 46 games to step up and score 20+ goals firing Chelsea into the latter stages of the cups and in the league. While it's not to say he can't or won't do it it would just require an awful lot; he would need to find his scoring boots (his real ones) you have to go back 3 seasons to see Torres hit double figures in the league. It would also require Torres to be fit and injury free all season, ask Liverpool fans, that's not a regular occurrence.
So why not just spend big on a new striker?
Seems simple enough doesn't it? Chelsea are the Champions of Europe, London is an attraction for players and as they have already shown Chelsea have the cash to splash. So why not just spend big and bring in a fashionable goalscorer; a Cavani or Higuain? Well because
Torres may just leave
. Those thinking no they were just throw away comments need I remind you of Torres' loyalty
?
What do they need?
This is where the complications arise. What they need is a striker who is A) Happy to be second fiddle initially and start mainly from the bench. B) Capable is called upon of scoring plenty of goal to help the club achieve their aims.
Do they already have that?
Again in a word I'd say no. Sturridge seems to fit the requirement of being good enough to score goals if needed however, as we saw in the latter stages of last season RDM isn't Sturridge's biggest fan and when Sturridge did play it was often from the right (although Sturridge himself seems to prefer playing as a number 9). As me mentioned earlier though he's not RDM's favourite and right now when you try to predict Chelsea's strongest XI next season you probably don't think of including Sturridge. I would say Chelsea's exit door is more likely than their starting line up for Danny.
The next natural number 9 on Chelsea's books is Romelu Lukaku. The heir apparent to Drogba's throne at Stamford Bridge, is he ready to step up? Not yet in my opinion he played 12 times for the first team last season. Now any Chelsea fans sharpening your swords ask yourself this; If Torres was to suffer an injury early on in the season would you be comfortable know Lukaku was going to start up top?
Next comes Bamford and Piazon who have both impressed at Youth Team and Reserve level. I think in particular Piazon will become a strong player, however If you think either of these are ready yet to start 20-50 games and score regularly then I think those blue tinted specs need to come off.
Who?
This is the bit we really can't answer. Chelsea have been strongly linked to Victor Moses but he's a winger not an out and out "9" striker, nor is Andre Schurrle (though he does wear 9 and has played up front). The most logical player we could come up with was Demba Ba back when he had a release clause of £7 Million that date however has passed. Your guess is as good as ours, maybe Di Matteo will pounce right at the end.
We'd love to hear your feedback so comment or tweet us @4th_Official.